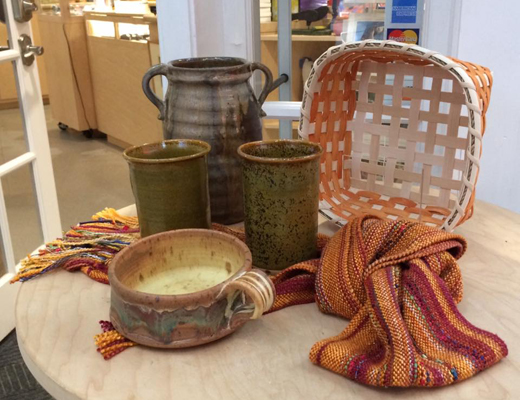 ABOUT US
The League of NH Craftsmen's Hooksett Fine Craft Gallery, one of the network of seven League-affiliated fine craft galleries, is located in the I-93 Northbound Welcome Center in Hooksett, accessible from  I-93N or from Route 3A (530 West River Road). This gallery offers visitors high quality, creative, and functional fine craft made by the League's juried members, and provides information about the League's events, activities, and other seven affiliated craft galleries located throughout the state. Visitors to the gallery will find a wide range of distinctive handcrafted gift items ranging from mugs, jewelry, glass tumblers, scarves, mittens, hand-turned wood bowls, garden sculpture, wine glasses, prints and more. Many of these items are suitable for travelers looking for hostess, wedding, graduation, birthday gifts, or gifts for themselves. The gallery also features live fine craft demonstrations by juried League members throughout the year.
Come by and visit us in the beautiful Welcome Center!
A special thank you to our sponsors: The Curt and Alice DeSouza Little Fund of the New Hampshire Charitable Foundation, the Duprey Companies, Mount Sunapee Resort, New Hampshire Charitable Foundation and an anonymous donor.
---
VISIT US:
Hooksett Rest Area I-93 (Northbound)
530 West River Road
Hooksett, NH
hooksett@nhcrafts.org
603-210-2509
---
JOIN THE LEAGUE       LEAGUE HEADQUARTERS

OUR MISSION: The mission of the League of NH Craftsmen is to encourage, nurture and promote the creation, use and preservation of fine contemporary and traditional craft through the inspiration and education of artists and the broader community.
© League of NH Craftsmen. Website Design by Sullivan Creative.